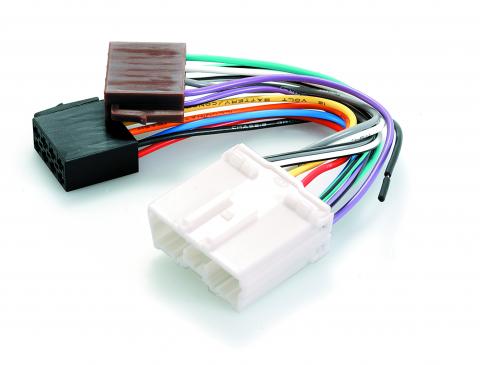 Aerpro APP0111 Universal ISO - Primary Harness for various Mitsubishi models
COMPATIBLE WITH: 

Mitsubishi Colt 2004 ON
Mitsubishi Magna 1996-2005 TE-TW
Mitsubishi Mirage 1996-2003 CE
Mitsubishi Nimbus 1992-2003 UF, UG
Mitsubishi Outlander 2003-2006 ZE, ZF
Mitsubishi Pajero 2000-2006 NM, NP
Mitsubishi Verada 2000-2005
Mitsubishi 380 2004-2010
Mitsubishi Triton 2007-2009 ML [GLS, GLX-R, VR]
Mitsubishi Challenger 2009 - 2013 PB
Mitsubishi Triton 2012-2014 MN [GLX-R]
Mitsubishi Lancer 1996 - 2003 CE, CE2, CG
Mitsubishi Lancer 2003-2007 CH, CY, CZ
Mitsubishi Challenger 1998 - 2005 PA
Mitsubishi Triton 2009-2012 MN [GLX-R]
Mitsubishi Express 1999-2013
Mitsubishi Triton 1996-2006 MK [GL,GLS,GLX,GLX-R]
The Aerpro APP0111 is a Primary Harness designed to suit various Mitsubishi vehicles with the single plug connector. It allows for the installation of an aftermarket head unit without the need to remove the factory wiring plug from the vehicle. APP0111 converts the factory head unit plug in the vehicle into a universal double ISO connector system.
For simple plug and play head unit installation, add an Aerpro APP8 Secondary Headunit harness to suit your new aftermarket head unit and the two looms will connect together via the ISO connector system.
FEATURES:
Designed for quick, simple and precise aftermarket head unit wiring installation
Vehicle specific plug designed to connect directly into the vehicles original head unit wiring loom, no need to remove the factory plug
Converts vehicle specific plug to universal ISO connector system
Provides a Plug & Play installation solution for aftermarket head units when paired with an Aerpro APP8 Secondary Harness (some hard-wiring may still be required)
Secure Clips on ISO connectors to ensure secure and long-lasting connection
Suits various Mitsubishi Vehicles with single plug connector
SPECIFICATIONS:
HARNESS TYPE: PRIMARY HARNESS
PLUG TYPE: VEHICLE SPECIFIC (SINGLE PLUG CONNECTOR)
CONNECTION TYPE: UNIVERSAL ISO SOCKET (FEMALE TYPE)
NOTES:

Suits various Mitsubishi Vehicles with the single plug connector.
When paired with Aerpro APP8 Series Secondary Harness plug and play solution a small amount of hardwired installation may still be required depending on the vehicle and aftermarket head unit type.