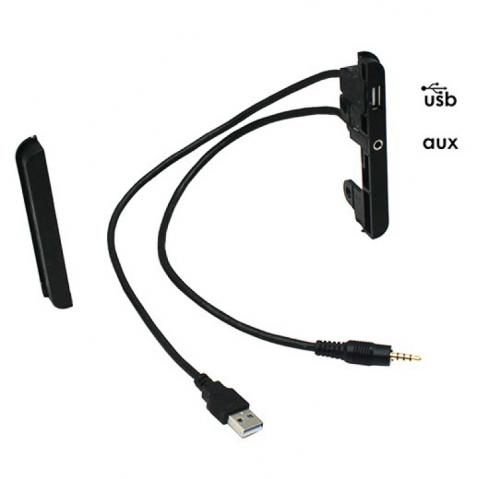 Aerpro ATB3USB Side Wings for Mounting a Double Din Head Unit to suit Subaru BRZ & various Toyota models
This facia kit is suitable for mounting an aftermarket head unit into your vehicle, giving your new stereo installation a professional look. The grade of ABS plastic used ensures the long life of the kit and a high quality finished designed to match the vehicle's dashboard.

Toyota side "Wings" for mounting a double DIN head unit.

Includes USB and 3.5mm Stereo sockets to link to the back of aftermarket head unit.
SUITS:
Subaru BRZ 2012 - 2016
Toyota 86 2012-2015
Toyota 86 2016-
Toyota Aurion 2012-2014
Toyota Aurion 2015-
Toyota Avensis Verso (Ipsum) 2000-2009
Toyota Camry 2002-2006
Toyota Celica 1999-2005
Toyota Corolla 2002-2007
Toyota Corolla 2007-2011
Toyota Corolla 2012-2015 Hatch
Toyota Echo 1999-2005 Hatchback
Toyota Echo 1999-2005 Sedan
Toyota FJ Cruiser 2011 - 2015
Toyota HiAce 2004-2011
Toyota HiAce 2012-
Toyota Hilux 2005-2011
Toyota Hilux 2012-2013
Toyota Kluger 2007-2013
Toyota Landcruiser 1984- 70 Series
Toyota Landcruiser 2007-2011 200 Series
Toyota Landcruiser 2012-2015 200 Series
Toyota Landcruiser 2016- 200 Series
Toyota MR2 spyder 2000-2005
Toyota Prado 2003-2009 120 Series
Toyota Prado 2009-2011 150 Series [GX]
Toyota Prado 2012-2013 150 Series [GX]
Toyota Prius C 2009-
Toyota RAV4 2001-2005
Toyota RAV4 2006-2011
Toyota RAV4 2013-2018
Toyota Rukus (Rumion) 2010-2015
Toyota Tarago (Estima) 2011-
Toyota Tundra 2007-2013
Toyota Yaris (Vitz) 2005-2011
Toyota Yaris 2011-2013