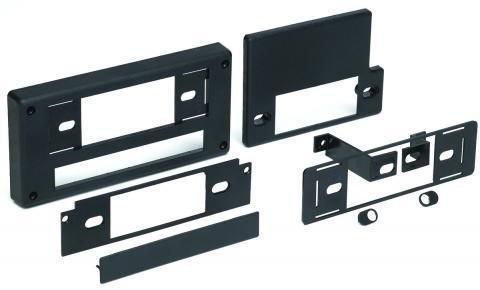 Aerpro FP9055 Subaru 1980-95 Multi-kit (Replaces 998900)
Facia Kits allow for the installation of an aftermarket stereo system where the factory radio face or opening is not DIN or double DIN standard. Our facia kits are specific to your vehicle and our range covers most vehicles in the Australian market.
Comprises moulded facia plates to suit DIN or shaft mount aftermarket radio.
Also provides space for 1/4 or 1/2 DIN equaliser. Packed in polybag with full-colour header.
Multi-purpose kit offers quick conversion from Shaft type to DIN.
Fits Subaru: RX, Legacy, Loyale, DL, GL.
Suits models:

RX (sedan) 1985-1989
Subaru Brat / Brumby 2 dr. Pickup 1982-87
Subaru Justy 2 dr. 1987-94
Subaru Legacy 4 dr. 1990-94
Subaru Legacy 4 dr. Wagon 1990-94
Subaru Loyale 2 dr. 1990-93
Subaru Loyale 4 dr. 1990-94
Subaru Loyal 4 dr. Wagon 1990-93