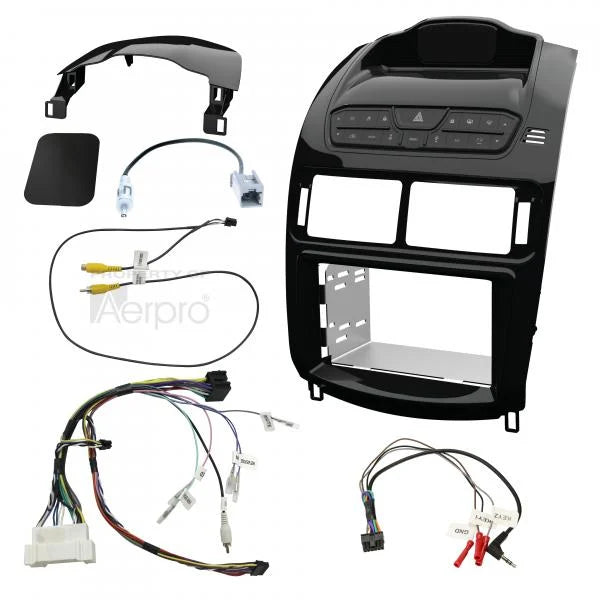 Aerpro FP9650PK Double din piano black install kit to suit Ford falcon fg
Complete a full aftermarket double din AV headunit installation in your Ford Falcon FG, from start to finish with this Aerpro vehicle specific headunit installation kit. Containing everything you need for a perfect upgrade in one box, this kit includes: a piano black facia kit with built in H-VAC controller and steering wheel control interface, piano black top dash panel, mounting kit, vehicle specific wiring loom, video in/out loom, universal patch lead, antenna adapter and MagMate metal phone plate. To make the installation process even easier, simply add Aerpro APP8 or APP9 aftermarket headunit harness adapters which will connect from the aftermarket headunit directly into the vehicle harnesses supplied in this kit. The facia kit has integrated buttons for HVAC control and various vehicle settings, which will also display on the aftermarket AV headunit when in use. It also has a built in MagMate Magnetic Phone Holder for convenient mounting of your smartphone in the vehicle. If the aftermarket headunit requires handbrake, reverse or speed pulse connection, these the triggers can be found on the main wiring loom included in the kit.
Please Note:

Not compatible with FGX Models.
Total Installation Kits can vary between models, to find the correct part for your vehicle use the Aerpro Vehicle Selector.
Aftermarket headunit must be SWC compatible and Steering Wheel Control Functions may vary from the OEM Functions.
Mechless shallow mount headunits recommended for easier installation due to their mounting depth.
This kit is designed for aftermarket AV double din headunits with an RCA camera input.
Vehicles with OEM reverse sensors or camera will require additional parts to retain reversing tone and reverse image, CHFO1B reverse chimes box and APVFD02 retention harness, these parts are sold separately.
Headunit ISO harness not included in the kit. Recommended to be installed with an Aerpro APP9 Headunit Secondary ISO Harness & SWC Patch Lead (sold separately).