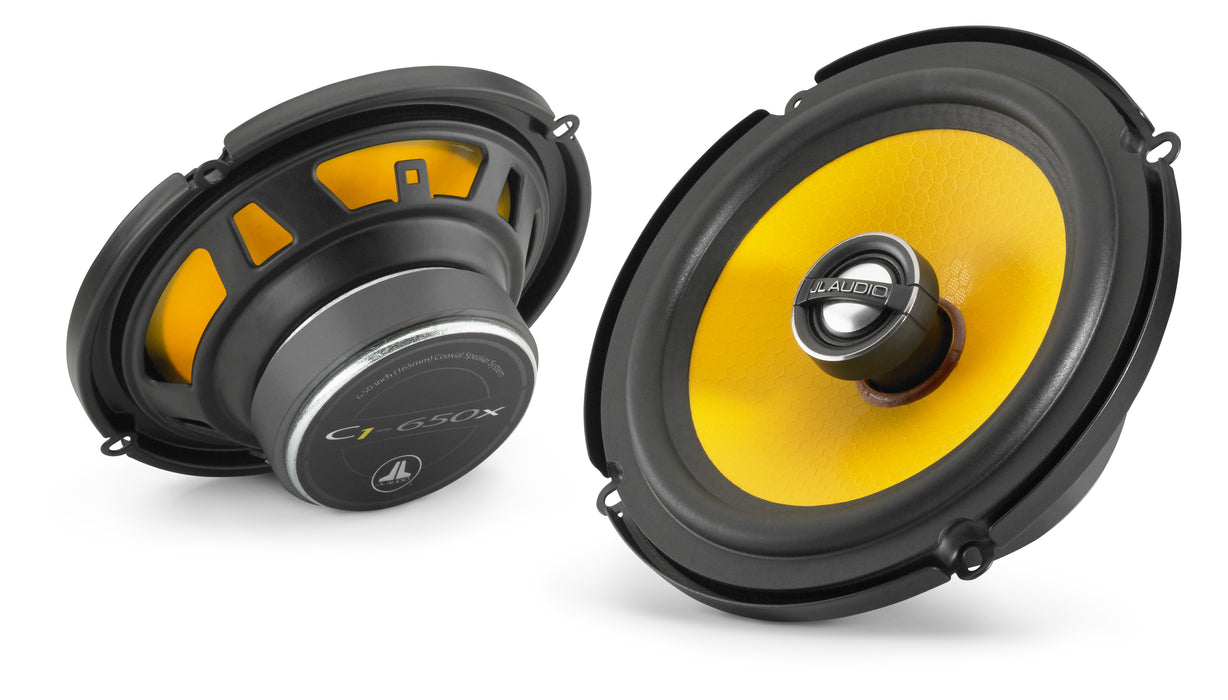 JL Audio C1-650x Coaxial Speaker System: 6.5" (165 mm) Woofer, 0.75" (19 mm) Aluminium Dome Tweeter (Sold as pair)
C1 speakers deliver real substance and great audio performance in a format designed for easy fit behind factory grilles.
To facilitate fit, multi-application adaptor rings are included with the C1-650x allowing easy, drop-in installation in vehicles equipped with oversized 6.5-inch and 6.75-inch speaker openings.
Without the ring, the speaker will fit into many "6-inch" speaker locations as well. C1 woofer drivers benefit from proprietary FEA modelling and JL Audio's expertise in low-frequency driver design. This knowledge is used to create speakers that can play loudly while maintaining a smooth, dynamic, low distortion sound.
At the core of the C1-650x is a proprietary, stamped, steel 6.50-inch (165 mm) frame and a DMA-optimized motor system. A mineral-filled, injection-moulded polypropylene cone is suspended with a rubber surround on the front, and a carefully engineered flat Conex® spider at the top of the voice coil, to precisely control the voice coil's motion.
Tinsel leads are carefully routed and attached to the spider to prevent fatigue and buzzing. These are the same kinds of features and materials normally found on much more expensive loudspeakers.
Equipped with a true, edge-driven, aluminium dome tweeter, C1 speakers stand further apart from others in its category with superior high-frequency clarity and definition.
The tweeter's design has an inherently excellent off-axis response and high-frequency extension. It also benefits from the damping of a silk surround suspension and Ferrofluid in the voice coil gap, along with the superior strength of a neodymium magnet circuit.
A true, 2nd order high-pass filter is employed to further enhance smoothness and improve power handling.
GENERAL SPECIFICATIONS:
Continuous Power Handling (RMS): 50 W
Peak Music Power: 225 W
Recommended Amplifier Power (RMS): 10 – 75 W / Ch.
System Efficiency: 90.5 dB @ 1 W / 1 m
System Nominal Impedance: 4 Ω
System Frequency Response: 48 Hz – 24 kHz ± 3 dB
Frame Outer Diameter* (A): 6.25 in / 159 mm
Grille Tray Outer Diameter (B): N/A
Motor Outer Diameter (C): 3.15 in / 80 mm
Frontal Coaxial Tweeter Protrusion** (D): 0.72 in / 18 mm
Frontal Grille Protrusion (E): N/A
Mounting Hole Diameter (F): 5.02 in / 128 mm
Mounting Depth (G): 2.07 in / 53 mm *Does not take into account mounting tabs **Frontal coaxial tweeter protrusion measured from mounting surface