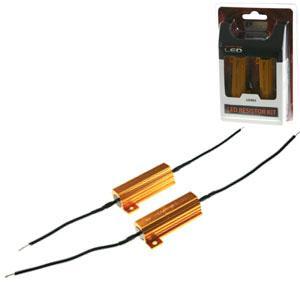 Aerpro LEDRES 11-Ohm LED Resistor Kit
FEATURES:
1 pair LED resistor kit
May be required when fitting Stop/Taillights
Prevents/rectifies globe error warning notifications when replacing standard globes with LEDs
Prevents fast flashing indicators when replacing standard globes with LEDs
Simple installation
Sold in pairs
NOTES:
Requires 1x resistor per load (filament) eg: A combination Stop/Tail globe would require 1 PAIR of LEDRES, 1x resistor for the Stoplight circuit and 1x resistor for the Taillight circuit. Most vehicles would require 2x pairs of the LEDRES when replacing the Stop/Taillights.
LEDRES may get hot during operation, install away from flammable objects or trim that may melt when exposed to heat.