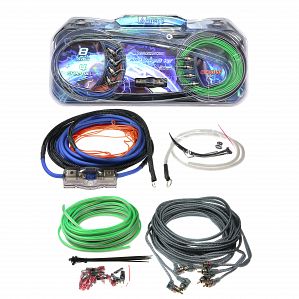 MAXCOR 8AWG 4 CHANNEL AMP INSTALL KIT
MAXCOR wiring kits combine high-quality components to ensure you receive blistering performance from your amplifier. All cables in the range are guaranteed to meet or exceed AWG (American Wire Gauge) Standards so you can be reassured you are delivering the maximum power and quality signal to your amplifier and speakers. The Soft Touch Super Flex (STSF) PVC insulation throughout the MAXCOR range allows cables to easily bend around tight corners with no loss in performance allowing for a neat and professional installation.

The MX48 will power up to a massive 600W and includes everything you need to install a 4 channel amplifier into your vehicle. The kit includes 6M 8AWG power cable, 0.8M 8AWG earth cable, 5M 20AWG trigger cable, 60A ANL fuse and fuse holder, 2 x 2 channel 5M RCA's, cable ties and all required professional fitting terminals. Unlike other amp installation kits in the market, the MX48 also includes 13 metres of 16AWG speaker cable.

If you are looking for an installation kit that offers MAXIMUM performance, you can't go past MAXCOR.